Dear Disaster Bakers,
I hadn't cried until we started thinking about how I'd procure two haggadahs. I don't have even one at home; I've never had a seder here. My father volunteered to drop them off, but I didn't want him to spend more time outside. (He's [age redacted], which puts him in a "vulnerable group" for contracting Covid-19.) My mother (ditto) suggested I walk over to their apartment and pick them up. The books would wait for me in the hall, with a Lysol wipe, she said. 
I think it's the wipe that made me wail; do I not have the most neurotic, perfect Jewish parents?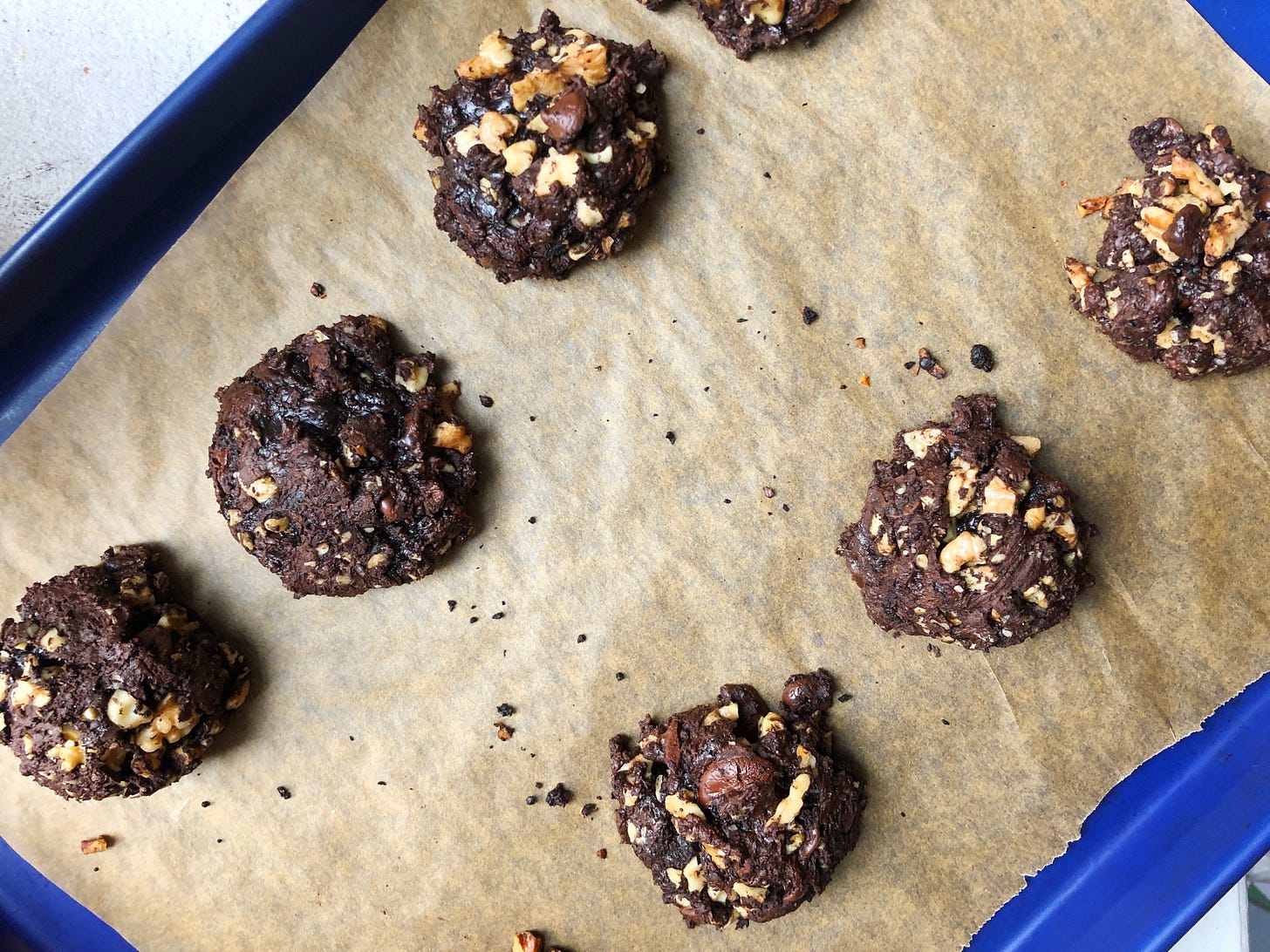 I had been coping well until I realized Passover was in three weeks. Like a lot of people, I'd had to cancel things when it became clear that the coronavirus would soon bear down on the United States—a trip to Nashville, a panel I was supposed to moderate, restaurant reservations. I turned 28 in the first week we spent in total isolation. Friends toasted over Zoom. "We'll do it for real when this is over," I said, not minding. I felt fortunate, if a little cooped up. (I live in a 400-square-foot studio, small for one person and absurd for two; don't you wish we had moved in together, my boyfriend asks me. I have more time than I could ever need to contemplate the answer to that.)  
But then I looked at the calendar. And I panicked.
Most people know that Passover requires some general prep-work—throwing out stale bread crumbs, stocking up on matzah and Manischewitz cake mixes. (The latter of which is better than boxed coffee cake in which potato starch is an essential ingredient has a right to be.) 
But in more traditional families like mine, preparation is elaborate. I'd liken it to deep spring cleaning, if spring cleaning had had a religious experience and developed a gluten intolerance. 
There are boxes upon boxes of dishes that need to be taken down from hard-to-reach shelves, because we don't use our normal sets; baseboards that have to be swept spotless; cupboards tied with twine so that we don't reach for our usual mugs out of habit; kitchen counters shrouded in cloth and foil; a tower of matzah in one corner, several cases of wine in another. In better times, I might have described the process as fashioning a personal bunker, except now I know what that's like, and Passover is more intense.  
Hand-washing for 20 seconds in warm water is scrupulous. But preparing for Passover as we do it—searching for errant crumbs behind candlesticks, taking a toothbrush to the stovetop—is fanatical.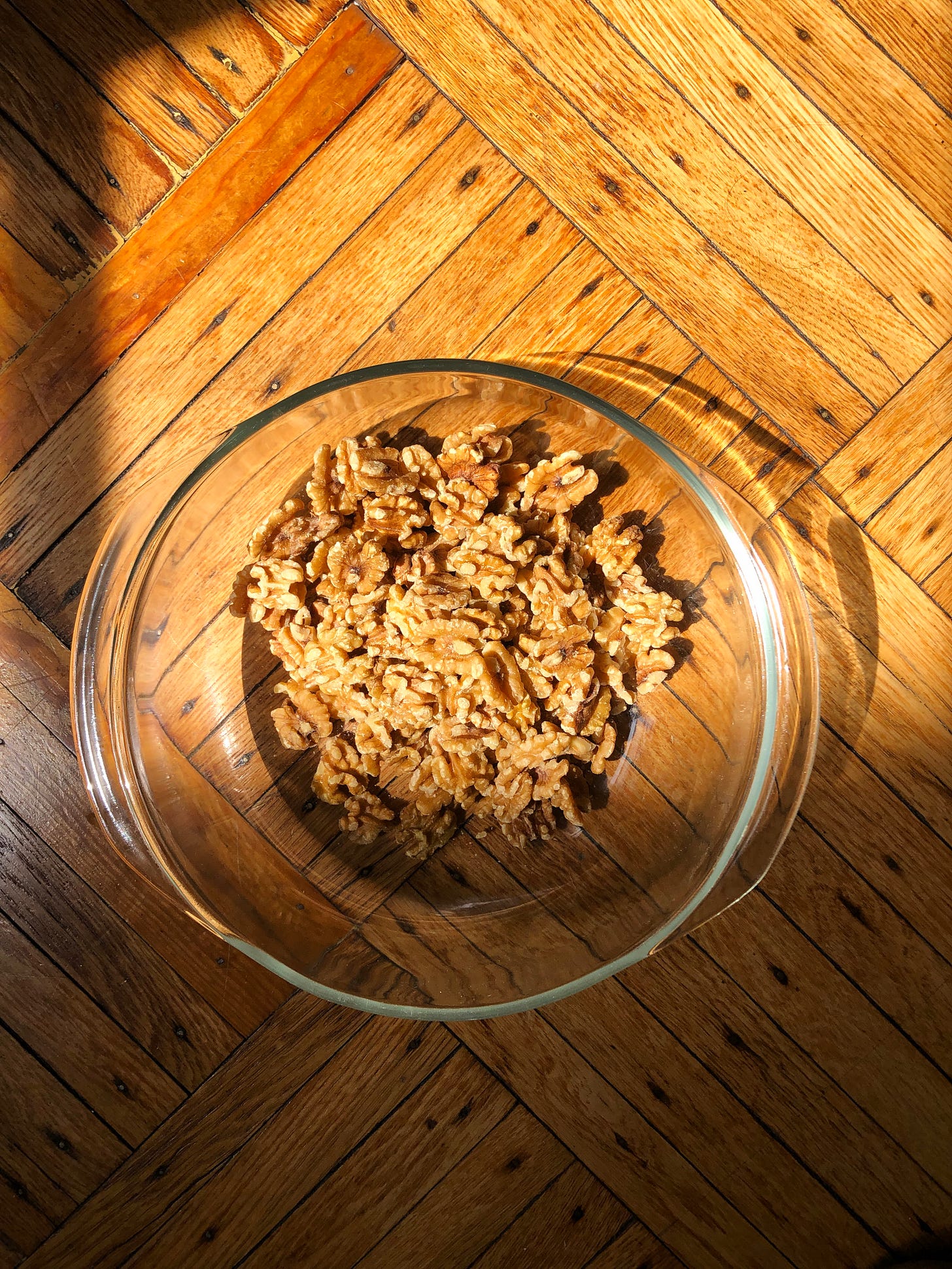 I should admit here that it's not "we" who prepare for Passover. In close to three decades, I have never once done it. Not the bulk of it. I don't scrub tables or wipe down chairs. I have never stood on tip-toes for the Passover dishes. I watch the scene unfold from a safe distance, curled up on the couch, watching Bravo shows while the apartment is rejiggered around me. The biggest contribution I have ever offered is the charoset and flourless chocolate cake we serve at seders; I leave the dishes in the sink. 
In our house, seders take five hours. The recitations are elaborate and raucous; four cups of wine will do that to a tradition. Some of the best childhood memories I have are from these tests of endurance. The seders are a harbor, some of the details changing, but the rest of it determined and consistent and ritualized. We see the same faces around the table. We eat off of the same mismatched dinner plates, in use for this one week and then stored for the rest of them. We walk to Central Park, the whole of it in ridiculous, ostentatious bloom. 
My father has maintained (until now) that children shouldn't host their own seders until their parents are dead. He almost means this. To him, his three children (aged 31, 28, 22) are still babies. There will be no seder-making until we are adults. I have been glad to humor him. I pack up each April and head home. I waltz in a few hours before seders, and for the next week, each morning, a cup of hot coffee (in our blue mugs) is handed to me with the newspaper. I regress; I lounge. I eat a lot of almond butter.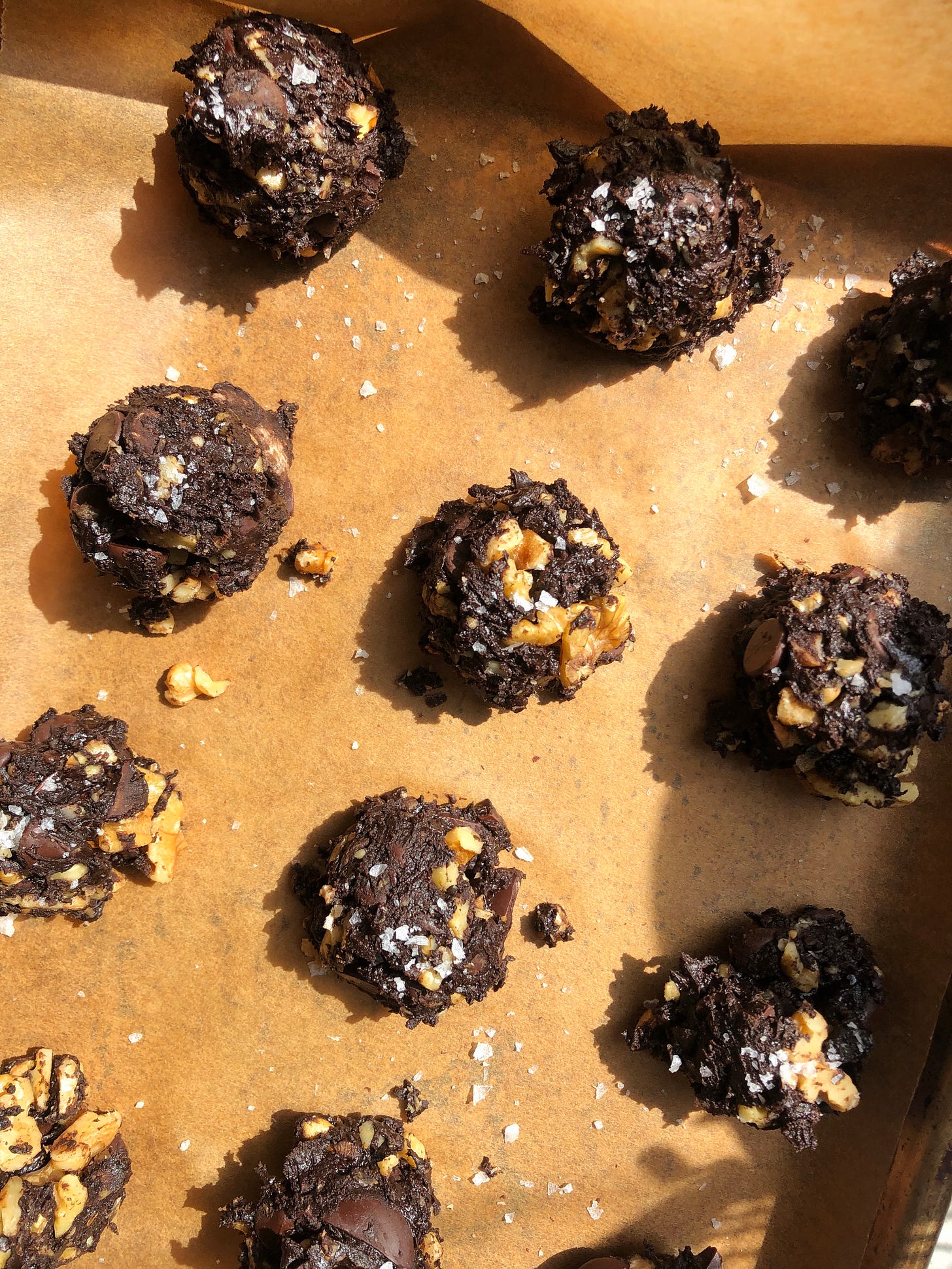 We used to joke that Passover made us feel like fundamentalists—sequestered from the world in our bubble of restriction and ritual. But now I know what it means to be isolated, and this week—with all its limitations—looks different to me. This time is not like those times.
Of course, on the scale of havoc that this virus has wreaked, the two-person seder I'm now planning clocks in near the bottom. Oh, how will I ever make the stories of the plagues meaningful, as a literal plague rages outside? This week, we'll crack open our disinfected haggadahs, and I'll read the title off the ones we use: A Different Night. I will also feel like taking a Sharpie to the cover—more like A Really Fucking Different Night. It will not be the same. I will hate it, I think. But the desserts will be good, and I can wear sweatpants.
In next week's newsletter, I'll hand over the recipe for the caramel-shellacked, chocolate-covered matzah I've made forever. It is the best Passover treat. But this weekend, I tested out a good alternative dessert that I feel the need to share. These are a version of the internet-popular "chocolate puddle cookies," which tend to be made of powdered sugar, cocoa, and egg whites. But most of those recipes are too one-note—flat and oddly flavorless. I wanted a cookie to sink your teeth into. The kind of salty-sweet thing you crave after a good cry.
I took precisely one walk after I made them to drop a batch off for my best and oldest friend; I left them with her nice doorman. She's a doctor treating coronavirus patients in the Bronx, and when she tried one after a long shift, she deemed them the best cookies she'd ever had. She also complimented the fine job I did wrapping them up, which is what makes her a true pal.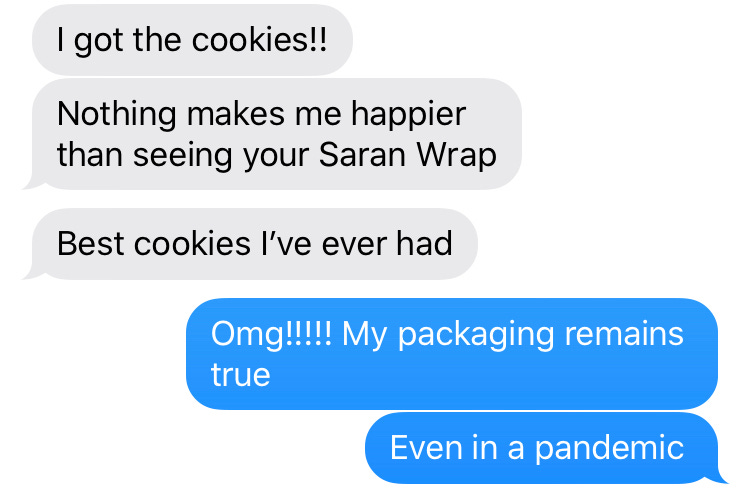 I wish I could give her a hug. I wish I could do seders at home. I wish we could be together in person, for real. But for now, there's Saran Wrap.
---
Double Chocolate Fudgenutters
Servings: 36 with a 1 1/2 tablespoon-sized scoop, 18 with a 3 tablespoon-sized scoop
Distractability: 6
Scratchpad: Two points for the scent of toasted walnuts, two points for how the powdered sugar puffs up into a little cloud while you're measuring, making the air taste sweet, two points for the chocolate chunks, which can and should be snacked on.
Notes: This recipe is adapted from the fine people at Red Gate Bakery in New York City. What makes these cookies so, so good is the ludicrous ratio of walnuts to dough, which gives the batter the tiniest bit of bitterness to balance out the sugar and chocolate. The nuts also keeps the cookies from spreading in the oven. Don't skimp! Also, if you're making these for Passover and are a madwoman like me, look for K4P powdered sugar. (Real ones know.)
Ingredients:
2 3/4 cups (285 grams) walnut halves

3 1/4 cups (370 grams) powdered sugar

1 1/4 cups (105 grams) cocoa powder

1 teaspoon salt

1 teaspoon espresso powder (optional)

1 1/2 cups (255 grams) bittersweet chocolate chips or chopped chocolate

4 egg whites (at room temperature, if possible)

2 tablespoons canola oil

1 tablespoon vanilla

Maldon sea salt, for sprinkling
To-Do List:
Heat oven to 350 F. Toast walnuts on a baking sheet for 8-10 minutes until bronzed. Your house will smell incredible; take it in. Once cool, chop and set aside.

Lower heat to 325 F. In a large bowl, whisk powdered sugar, cocoa powder, salt, and espresso powder. Once well mixed, add chopped chocolate (or chips) and walnuts. (Of course, feel free to use an electric mixer for this, but I truly don't see the point!) Then whisk in egg whites, canola oil, and vanilla. It will require a little patience to incorporate the egg whites into the sugar-cocoa mix; don't lose hope! It will happen. Don't over do it, either. Once the batter has come together, stop.

Line two baking sheets with parchment paper. Scoop the batter into mounds—I started with a 1 1/2-tablespoon #40 scoop, but then went for a 3-tablespoon #20 scoop when I started feeling wild. It will be hard to scoop. Walnuts will be all over the place. It's fine. Let the unbaked cookies sit at room temperature for at least 30 minutes, which helps them spread less. Sprinkle with flaky salt, if you know what's good for you.

Bake for 10-12 minutes, until little cracks appear in the surface. The outside should look all glossed and beautiful, like the top of a great brownie, but the cookies will still be soft to the touch. Let them firm up as they cool. They keep in an airtight container for up to three days, but are best an hour or two out of the oven. After three days, eat them crumbled over ice cream because you can.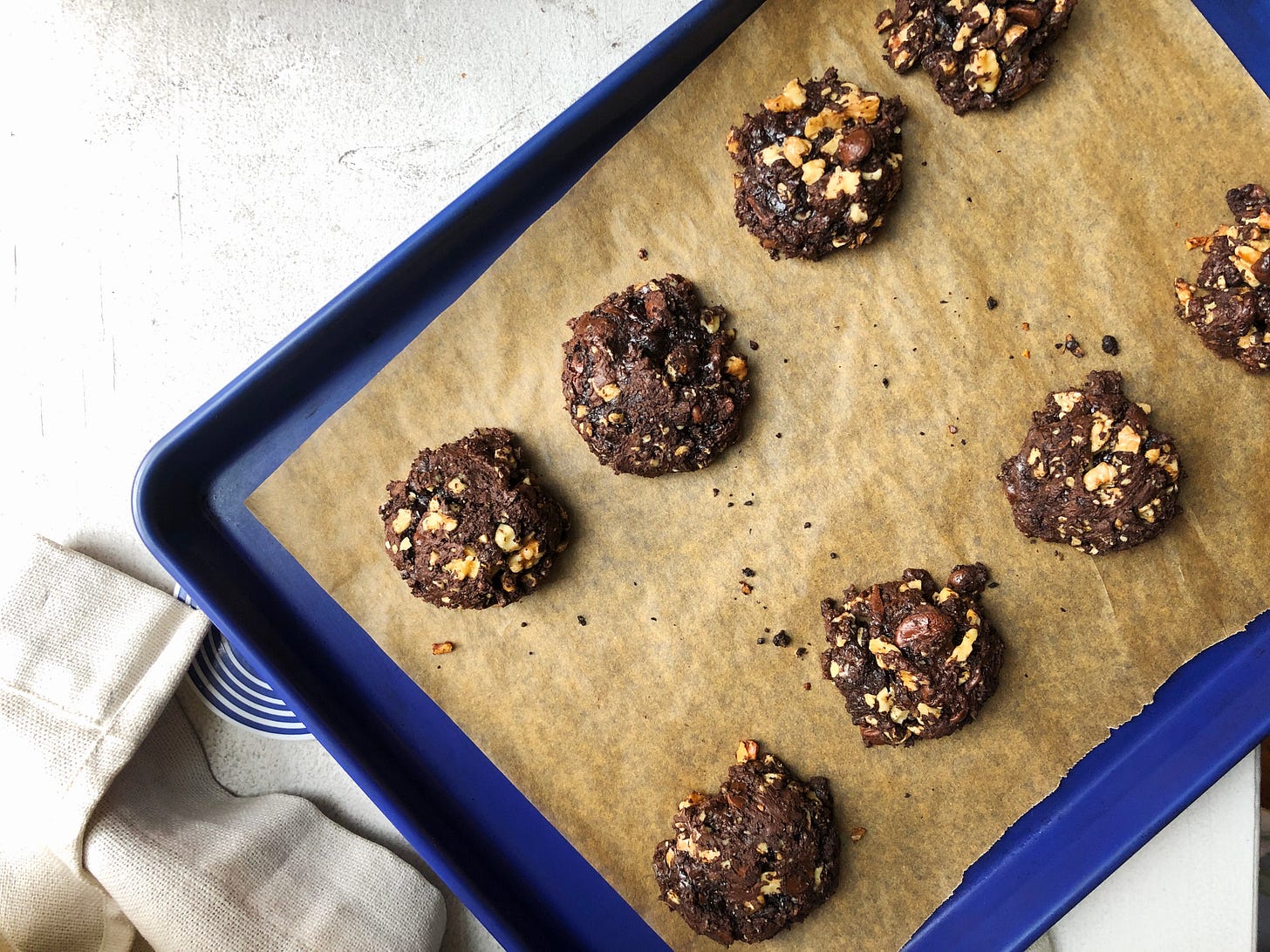 ---
Distractions, Diversions, What I'm Eating for Dinner
Read all those tweets about how now is the time to watch The Sopranos. Consider it, but resolve to watch all 10 seasons of Real Housewives of New Jersey first. I'm doing it, and it's great.

Read The Transit of Venus, a book about two sisters in post-war England, because doesn't that sound so good right now?

Order the aforementioned book from Bookshop.org, the best new non-Am*zon corner on the internet.

Eat these kale, scallion, potato cakes, a Passover dinner if ever there were one. (Sub matzah meal for the bread crumbs). Then caramelize a whole freaking cabbage like the goddamn domestic goddess you know yourself to be. Later in the week, when things are feeling dicier than usual, break out this six-ingredient salmon. Pour some wine while you're mincing garlic. Eat two cookies for dessert.

Also, I made vegan kimchi this week, combining a whole bunch of recipes and generous tips from friends. The mix is fermenting in the fridge for the next few weeks, and then I will have enough kimchi to last me…some period of time. (What is an appropriate interval in which to consume several pounds of kimchi?) I wish we could pickle our brains, too. But for right now, it's just the cabbage. As far as quarantine projects go, I recommend this one. There is, as far as I know, no run on cabbage.
---
Fork Over That Dough
After each of the last dozen or so natural disasters, one name pops up: José Andrés. With World Central Kitchen, the renowned chef and humanitarian mobilizes massive teams to feed the most vulnerable. "Inspiring" is the kind of word that gets thrown around a lot, but reading about World Central Kitchen makes me want to do more, be better, shoulder more of this impossible burden. Of course, Andrés is responding to this crisis too. Learn more about his work here.
Do you know about an organization that could use a few extra bucks? Email me so I can put it in a future newsletter: disasterbaking@gmail.com.
---
Oh, And
Isn't it nice to be reminded that someone like Mario Salerno even exists?